Jurassic World: Dominion Dominates Fandom Wikis - The Loop
Play Sound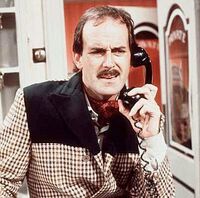 Basil Fawlty, played by John Cleese, is a snobbish and miserly misanthrope who is desperate to belong to a higher social class. He sees a successful hotel as a means of achieving this ("turn it into an establishment of class...") yet his job forces him to be pleasant to people he despises. He is known for his caustic tongue and wit, muttering angry little asides under his breath when feeling taxed. He wants his hotel to be exemplary, but he is cheap, incompetent, arrogant, short-tempered and often looking to take shortcuts. His wife, Sybil Fawlty, seems more equipped to run the place, but she is often absent.
He owns the Fawlty Towers Hotel which he runs with his wife and various members of staff. He has a hate/hate relationship with the majority of the guests who stay at the hotel, often being annoyed by their requests and habits. He is shown to be quick to anger and easily annoyed, especially since mistakes and bad luck run rampant. He claims to speak fluent Classical Spanish; however, one of his workers, Manuel, who is Spanish, cannot understand him properly, indicating that Basil is actually linguistically incompetent.
He served in the Korean War and claims to have killed 4 men. [1] Sybil tells some guests that he served in the catering corp. and he poisoned them.